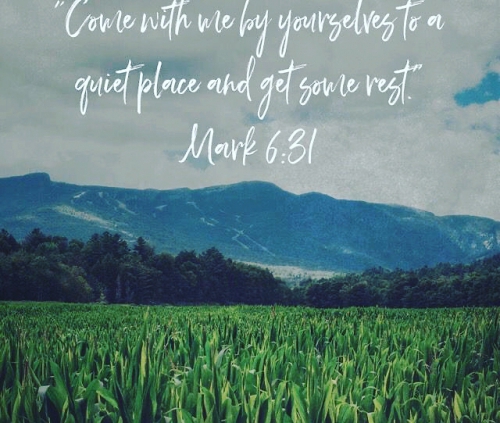 Are you tired or worn out? Do you need rest? In Mark Chapter 6, Jesus invited the disciples to get away and rest with Him. "He said to them, 'come with me by yourselves to a quiet place and get some rest'" (Mark 6:31). Sometimes we too have to pull away from the hustle, bustle, busyness, and noise of life. Our careers, culture, and media are certainly not here to help us rest or have peace. We must find time to rest with Jesus and with our families.
If fact, in Matthew Chapter 11, Jesus invited the weary and burdened to come to Him for rest for their souls. "Come to me all you who are weary and burdened, and I will give you rest. Take my yoke upon you and learn from me, for I am gentle and humble in heart, and you will find rest for your souls" (Matthew 11:28-29). The soul is often related to the mind, psyche, and emotions. Come to Jesus and find rest for your body and mind. Your soul needs rest. Your psyche and emotions need time with Him and a break from the world. Get away with Him. Take a deep breath….time to rest.
To see more posts like this, then we invite you to check the blog and updates section of the website. Also, connect with Nevin on social media or feel free to contact him with questions or comments. Also, check out his book, Spiritual Warfare, on Amazon today!
https://nevinwhite.com/wp-content/uploads/2021/03/Time-to-Rest2-e1616692071677.jpg
500
500
NevinWhite
https://nevinwhite.com/wp-content/uploads/2020/05/NW-Logo-scaled-e1589419997248-300x79.jpg
NevinWhite
2021-03-25 16:38:28
2021-03-25 18:14:42
Time to Rest